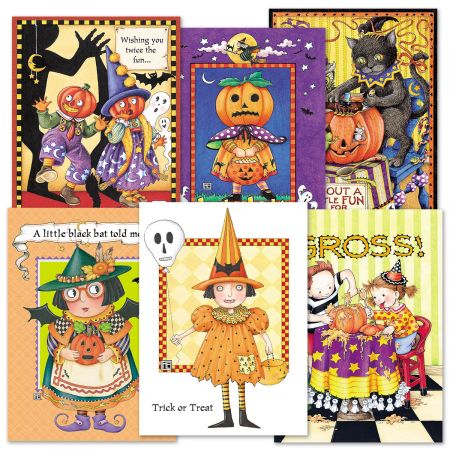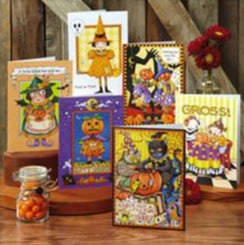 Halloween Greeting Card Bundle, 12 assorted
Always entertaining, sometimes quirky, Mary has added a smidgen of eeriness to these fanciful Halloween cards.
Measure 5 x 7 in.

Orange envelopes

Set of 12: 6 design,2 each
Cards read:

Jack-o'-Lantern Trick-or-Treater
Front: Looky, Looky Ain't I Spooky?
Inside: Happy Halloween

Pair of Jack-o'-Lantern Kids
Front: Wishing you twice the fun...
Inside: ...and twice the fright! Happy Halloween

Kids Carving Pumpkin
Front: GROSS!
Inside: Hope you've carved out an evening of fun.

Girl with Witch Hat
Front: Trick or Treat
Inside: Have a perfectly frightful Halloween.

Witch Holding Jack-o'-Lantern
Front: A little black bat told me...
Inside: Happy Halloween!

Black Cat and Owl Carving Pumpkin
Front: Carve out a little FUN for yourself
Inside: Happy Halloween!